Installed at Coastal Chemical, this solution aids the flatbed truck operator to safely secure and tarp dry bulk bags or super sacks for transport. Using the RollaStep MP Series mobile platforms, a hydraulic system automatically positions the platforms alongside the flatbed trailer, giving the operator safe and easy access to secure the load. Because the platform is on both sides and extends the full length of the flatbed trailer, the operator has plenty of room to safely tarp and strap down payload.
---
---
The hydraulic automation safely secures platforms alongside a flatbed trailer, helping mitigate shortcuts or unsafe practices the operator may take in securing the load. It also increases throughput and is ideal for quick turn operations, getting trucks in and out of the facility, perfectly suited for high volume operations.
Using a safety indicator light clearly signals to the operator when it's safe to pull in or depart the area. That and bollards protect the equipment from early departure damage or driver errors.
RollaStep mobile platforms are OSHA compliant and can be easily customized to fit site-specific applications and requirements. When needed the platform with its large 8-in casters can be easily and safely positioned by a single operator.
SafeRack Can provide a turn-key flatbed loading solution.
SafeRack's experts have a long history of loading and unloading vehicle solutions and can provide a fully engineered, custom solution for any facility. This installation was created and installed as a turn-key solution. Using RollaStep mobile platforms allows one operator to tarp a fully loaded flatbed trailer in 15 minutes or less. Most importantly though, it allows operation without climbing onto the truck or load, eliminating potentially unsafe working conditions.
Whether an off the shelf solution or complete custom, we set out to make a better and safer flatbed loading solution. Our engineer's priorities are safety and simplicity. SafeRack can supply tarping solutions with an overhead tarp spreader bar for interior applications, further simplify securing the load. at multiple locations to eliminate boom swing and tarp twisting common in other systems. Some solutions and requirements include lifeline and fall arrest systems.
These simple design decisions make the SafeRack truck tarping system the safest, easiest way to tarp trucks on the market.
Mobile Work Platforms By RollaStep.
The Rollastep MP Series (mobile work platform) is designed to create the stability of a fixed platform to a but in a rolling stair mobile unit. With a large work platform area, it can securely and safely accommodate multiple operators and their equipment and parts.
The powder-coated handrails, full size 45° rise stair stringer, and standard width and depth steps meet OSHA specifications for mobile work platforms, while the lightweight aluminum construction maintains single user mobility.
Versatile and Configurable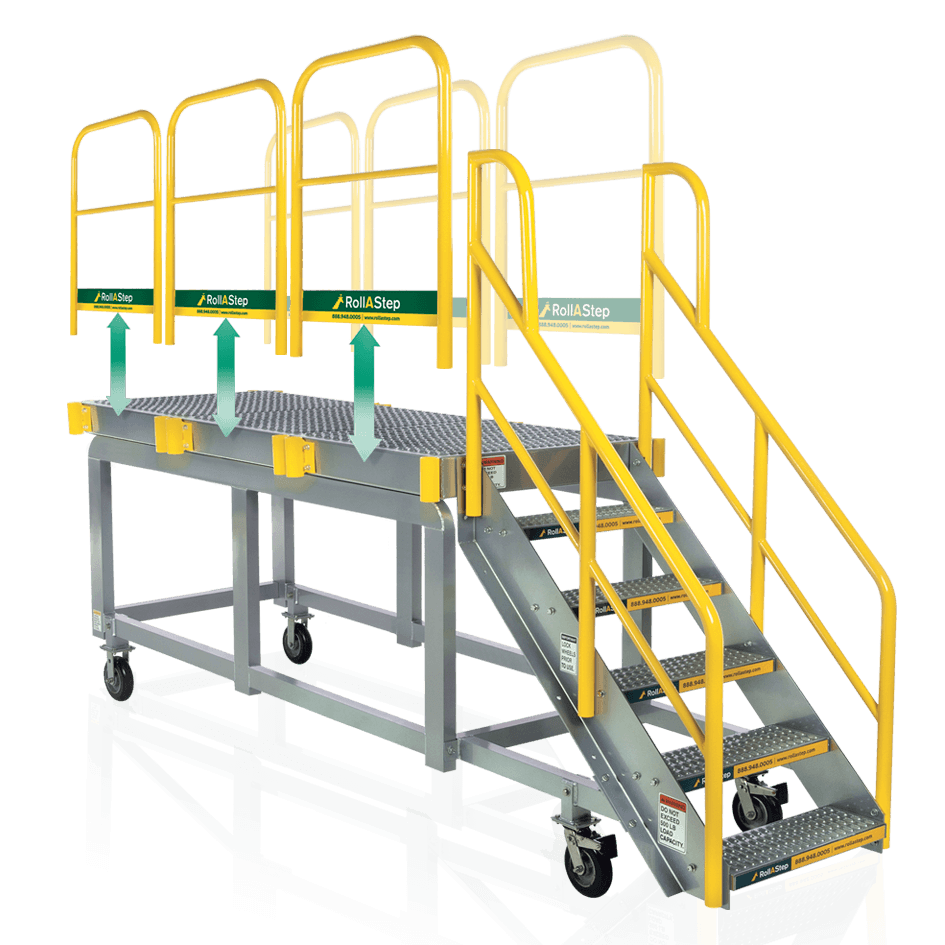 Optional removable handrails give the MP series mobile work platform unparalleled versatility, like removing railing on one side to access a flatbed trailer.
Each handrail slides securely into and out of its retaining sleeve without tools, allowing operators to reconfigure the platform in the field.